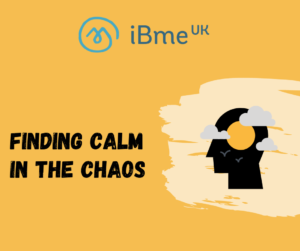 Finding Calm in the Chaos is an interactive mindfulness course for building wellbeing and resilience in times of change and uncertainty. It is open to registration to youth aged 18-23.
Mindfulness is a way of training our mind to live with more happiness as well as reducing stress and anxiety. It's a toolkit that can support us to live with more freedom in this changing and unpredictable world.
This course will offer us an opportunity to learn simple tools that can help us live with more fully and meet challenges and stress with more calm and strength
Join us for 5 online sessions to explore:
How do we bring more calm to the chaos and unknown?
How do we live to our full potential in this changing world?
Can we find peace – and even wellbeing – amidst this difficult time?
We explore these questions in every session through:
Simple mindfulness practices
Creative activities
Engaging community discussions
Learning themes include:
Course Leaders
Kareem Ghandour
Kareem Ghandour
Kareem first encountered mindfulness at the age of 18 and has been inspired about sharing it with young people ever since. He has spent many years active in initiatives for mindfulness in education and in mindful communities for youth, as a facilitator in peer- led settings, and teaching on courses and retreats. These include the Wake Up movement for young adults and the charity Youth Mindfulness. He completed his mindfulness teacher training in 2018 and was trained in person by Jack Kornfield and Tara Brach. He is passionate about exploring the role of play, creativity and social justice in the mindfulness world
Lucy Chan
Lucy Chan
Lucy is a mindfulness and self-compassion teacher who leads retreats and courses worldwide. She is part of a nationally acclaimed team delivering mindfulness for burnout retreats, and has been trained directly by the internationally renowned pioneers of self-compassion Kristin Neff and Chris Germer. As a practising doctor in the NHS, she understands the importance of integrating mindfulness and self-compassion practices as a way to keep balance in everyday life
Date & Time
5 Monday evenings from the 8th of Feb – 8th of March 2021
6:00-7:15 PM
Cost
This course is free to attend. It is funded by the National Lottery Coronavirus Community Fund.
Spaces are limited to please register soon to secure your place!
Book a course or ask a question
Get in touch to book a course or ask a question by calling or emaling us:
077887691707
email /kareem (at) ibme.org.uk/ or by filling the form below.
Please fill-in the booking form to book your place on the course
Heartfelt gratitude to our sponsors: