Online mindfulness weekend for BPOC youth: 17th – 18th April 2021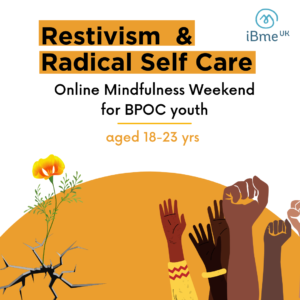 We are excited to announce this online mindfulness weekend for young people of colour as the last of our offerings of free and funded courses for this year. Join us for two dynamic sessions to explore the practice of "Restivism" and radical self care as we move through times of transition and back into a changed world.
Restivism means learning to reclaim our capacity to rest and rebalance ourselves, as an act of resistance in a world that values high volume productivity over our wellbeing.
As we emerge from many lockdowns, what have we discovered about ourselves and our wellbeing from this time? And what kind of world do we want to step back into? Mindfulness is a practice of paying attention differently, to ourselves, others and the world we live in, of going against the stream, it offers us new ways of being and responding to the world around us.
Over the two sessions, we will explore different tools and practices for sustaining our wellbeing and resisting the old ways of "normal" that deplete our energy.
Join us for a weekend of:
Restorative practices
Creative reflections
Community connection in a supportive space
Let's explore together how we can bring a radical and sustainable practice of self-care with us to navigate a new reality.
Who is it for?
This programme is for:
anyone who identifies as a person of colour (Black, Asian, Latinx, Middle Eastern, mixed heritages & indigenous people of north, central and south America)
and between the ages of 18-23
If you interested but slightly older or youngerplease do get in touch.