We are glad you are here on this journey! On this resource page you will find some guided practices and some inspiration to continue exploring and reflecting on from the material we cover in sessions.
This will be updated weekly, please get in touch for any requests or your own recommendations of things you would like to share on here!
Week 1

For our first mindfulness practice, our theme was settling and reclaiming our attention. We explored the different ways we can understand mindfulness and what it looks like as a way of reconnecting with life and living the present moment.Here are some recordings at different lengths for continuing to explore the first stage of settling and calming our attention on an anchor, as a way of also reclaiming our attention and finding ways to direct it to where we want to.
Mindfulness practices
1 minute breathing space

2 minute breathing space
Settling attention with breath, sensations and sounds
Guided relaxation (best done lying down)
The work that reconnects: starting the spiral journey
We also began our journey with the spiral of the work that reconnects! Which will be our map for finding ways to face the situation of our world and listening to our own unique, wholehearted response.
The 4 stages we will be exploring in our time together: coming from gratitude, honouring our pain, seeing with new eyes, going forth.
We also explored the 3 stories of our time that Joanna Macy shares in this work. These stories are like different realities co-existing at the same time, reflecting on them helps us to make sense of the different realities happening around us, and find how we want to engage in creating change.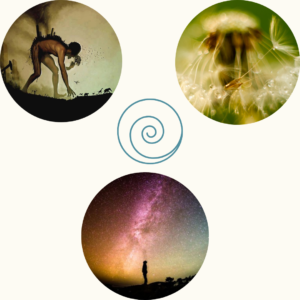 Business as usual: The story of the Industrial Growth Society, that has led to the destruction and exploitation of the planet, it's people and resources. The course of development that has led us to where we are now. This story functions to maintain the power and privilege of "the 1%" while legitimizing the impoverishment and disempowerment of everyone else.
The great unravelling: The story told by those who see the collapse of business as usual and the narratives that held it up support business as usual. The realities of human and ecological destruction can no longer be hidden and the limits of previous stories are forming cracks in their foundations.
The great turning: The emergence of new and creative human responses. A crucial moment in time and transition we are in from the industrial growth society to a life sustaining society.
3 dimensions of changemaking in the great turning:
Holding actions: actions in defence of justice and life on earth, slowing down the damage of business as usual. Examples include protests, boycotts, whistleblowing, giving talks, writing letters, petitions and exposing wrongs
Structural change: developing new models and structures in society to create more life sustaining systems and practices. Examples are community initiatives, new ways of education, sustainable approaches to food and energy
Shifts in consciousness: A shift in our perception of reality and life is required to bring forth change, a way of seeing the world rooted in our interconnection and interdependence. Shifts in consciousness come from practices like mindfulness, nature immersion, art and education from indigenous people's wisdom and social justice movements through history.
Like in our session, you might like to continue to reflect on:
How you are witnessing and experiencing these 3 stories of our time playing out in your life?
What forms of change are you drawn to exploring and learning about from the three categories of holding actions, structural change and shifts in consciousness?
Video inspiration:
For more information about the work that reconnects: https://workthatreconnects.org/
Week 2 – Coming From Gratitude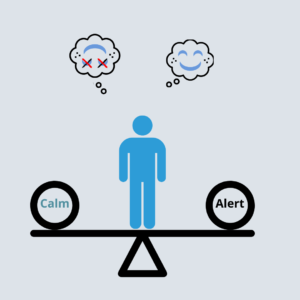 We continued experimenting with mindfulness anchors, ways to open our senses and settle ourselves. We also explored how awareness of the body can be a place of resting and being at home in ourselves. Being at home in the body also means we have a resting place of more balance, wellbeing and groundedness to help us meet the inner and outer challenges in daily life.
Below are some audio and video practices for continuing to explore mindfulness of the body, through sitting, movement, resting and a grounding self massage exercise.
Mindfulness Practices
River- 4 minute breath & body meditation

Kareem- Body Scan

Lucy -Grounding meditation

Kareem- Cultivating happiness meditation

Self Massage with Justine

Mindful movements

Coming from gratitude
Coming from gratitude is the first stage on the spiral of the word that reconnects but it is one we continue and carry with us through our whole journey. Gratitude helps us deepen our connection to life and the things we love, which can give us a great source of power and energy to face the challenges and pain of our world and to act courageously.
Gratitude is something that needs regular practice and watering to stay strong and alive in our hearts and minds. Below are some practices, suggestions and experiments to continue exploring and watering seeds of gratitude.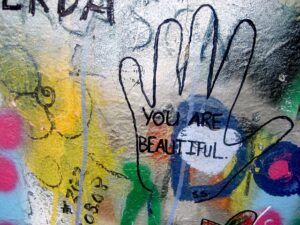 Walking meditation and a gratitude walk
Walking meditation is a way to bring more connection and awareness into movement and the experience of walking. It's a practice we can take with us anywhere to bring a sense of calm and presence into our daily life. In the natural world, it's a chance to deepen our connection to our environments and open our senses to take in the wonder of nature.
You might like to experiment with taking this to your favourite location. First we slow down the journey by grounding attention in the feet and the body as it walks, then we gradually open our senses to take in our environment. We can take some moments of stillness in our favourite spot and open our senses to everything happening around us, taking more time to absorb our surroundings than we usually would.
Music meditation
Making time to give our full presence and take in the music medicine we appreciate. Simply creating a space to listen and allow the music to touch us, eyes closed or facing a window can help to simplify our visual input. As we receive sound, noticing how it's landing in our body, our feelings, changing our breathing and state of mind, calming us or giving us energy. We can do this lying down, sitting or any position.
Please share your suggestions for songs on this open doc here.
Eating meditation
Choose your favourite snack, food or chocolate and take the time to eat it slowly and take in the full flavour and experience. We can take things further by connecting and looking more deeply into the food and the journey it's made to us. The multiple conditions that brought it here including the places the vegetables & grains grew, the people who grew and packaged it, packaged it, and even the elements of sun, rain and sky that brought it into being.
Gratitude mandala
You might like to continue the reflection we began this week and finish creating a gratitude mandala as a way to list, celebrate and really take in all the conditions in our lives that support our wellbeing. The categories we considered: Natural places, inspiring people, things we love doing/making, and positive qualities in ourselves.
Visual meditations and inspiration
Visual meditations to help spark a sense of awe and wonder for living on this planet. We can just allow the images, sounds and words to come in and touch our mind and hearts.
A visual meditation on gratitude for the natural world, people and places with amazing cinematography.
OVERVIEW is a 20 min documentary about the experiences of astronauts seeing the earth from a distance for the first time and their strong shift in perspective.
OVERVIEW from Planetary Collective on Vimeo.
This video explores the Thanksgiving Address from the Haudenosaunee people, an inspiring example of indigenous wisdom that invites us to re- examine our relationship to nature and see our interconnection with things.

The text for the address is here: https://americanindian.si.edu/environment/pdf/01_02_Thanksgiving_Address.pdf
Week 3: Honouring Our Pain
We explored how mindfulness can help us maintain our stability and to take care of difficult feelings that come with care and kindness. We explored a practice of how we can cultivate a non-judgemental and non- reactive presence with feelings, to allow them to move through with space and acceptance, and of course always returning to a safe centre when things feel too difficult or uncomfortable.A helpful formula for responding to difficult feelings:
Recognise- simply noting and naming what is going on in our internal experience
Respect- honouring the feeling that's showed up, sensing how it is in the body and allowing it some space
Respond Kindly—bringing a kind attention to the feeling, checking in with what it needs, maybe some calming words or some soothing touch.
Ride the wave- By staying with the felt experience of the feeling in the body, our mindfulness gives it space to begin to move, change and shift as it needs to.
Release- Eventually all waves come to fall, once we've offered a feeling some space and kind attention we can let it go. We can see that we are more than feeling and it's only one experience passing through a vast ocean.
Soften, Soothe, Allow- A practice for taking care of difficult feelings:
We explored how honouring our pain is a rich and challenging part of the spiral. The concern and pain we feel for the many things happening in our world are signs of our care and connectedness. When we listen to this heartbreak and worry we are alerted to what needs attention in ourselves and the world. Making space to acknowledge and share these feelings with a safe community helps us remember that we are not alone, we also gain the strength to move through them and use them as good compost for beautiful vision and action in the world.

Joanna Macy said: "Please observe how far the concerns you've just shared extend beyond your personal ego, beyond your individual needs and wants. This says something very important about who and what you are. It says you are capable of suffering with your world. That capacity to suffer-with is the literal meaning of compassion, a central virtue in every spiritual tradition. It says you are a compassionate being.

So don't apologise for the tears you shed or the rage you feel about what's happening to our living world. They are just the other face of your belonging."
Videos
Please enjoy these videos as visual meditations and inspiration to continue reflecting on this theme.
The more beautiful world our hearts know is possible– A powerful visual meditation on how we move from our pain for the world to a new and more beautiful story for our world.

Joanna Macy on what it means to honour our pain for the world:


Zen master Thich Nhat Hanh talks about gaining strength from accepting reality and moving beyond despair (starts at 2:09)

Week 4: Seeing With New Eyes
We explored a meditation that helped us expand our perspective and sense of who we are. One of the other ways we can do this is by bringing mindfulness to our experience of thoughts and thinking. Becoming more aware of our constant stream of thoughts can help us get a freer and wider perspective on the different stories our minds tell and the identities created by them.
Mindfulness of thoughts practice
Seeing with new eyes
This part of the spiral leads us to the shifts of perspectives that we need, to move on from the old stories of the industrial growth society and the values of individualism and competition. Moving towards a new story of a life sustaining society requires a leap into seeing with the eyes of interbeing that is based on how our lives and actions are intertwined with each other and the planet. This perspective also helps us see that we are more than our limited sense of self and that there is a need for all our unique gifts to create a better world.
The problem with wokeness- Ayishat Akanabi shares an important perspective in times of division. The power of seeing beyond labels and the revolutionary power of compassion, kindness and empathy in social movements.
Moving towards interbeing– Charles Eisenstien shares reflections on this new story. There are many videos of him on youtube diving deeper into this
Soil, Soul, Society– a passionate talk by Satish Kumar on the place of humans in deep ecology
The Honorable Harvest– Robin Kimmerer shares indigenous wisdom about learning from the plant world